GIRLS JUST WANNA HAVE FUN!  Well, here's a product that does exactly what you expect!  Yes, these little guys perform just like the real thing!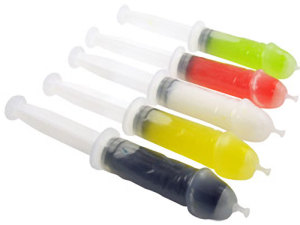 Peni Shot Syringes are the exciting new way to serve your jello shots, PUDDING shots, or liquid shots!
Bachelorette party cocktails (no pun intended)? These uniquely shaped shot syringes are exactly what you need at any bachelorette party, girls night out, divorce party, gay bar, or adult event. Peni Jello Shot Syringes are MADE for jello shots, so they have an extra-wide opening at the bottom, and the shots easily squirt out! They can also be used for pudding or liquid shots as well!
So quick and easy to fill! Just pull back on the syringe plunger to suck up the shot mixture, allow shots to chill for few hours, and then you're ready, Freddy!
Each Peni Shot Syringe comes completely assembled with a peni-shaped barrel, plunger, and over-sized cap to lock in the liquids.
Peni Shot Syringes are:
Clear, so they will take on the color of whatever you fill them with
5 ounce Max Capacity
High Quality Construction
FDA Approved Product
Dishwasher Safe
Re-Usable
Easy to clean
Each package contains 15 clear Peni Shot Syringes.
BONUS! Here's a great pudding shots recipe.  Because we're looking out for ya!
1 box (3.4 oz.) ANY FLAVOR instant pudding
1 cup milk
½ cup RumChata liqueur
½ cup whipped vodka
1 container (8 oz.) whipped topping
Beat pudding, milk, and boozes for 2 minutes until it thickens.  Fold in whipped topping. Put into shot syringes or jello shot cups. Freeze.
Note: DO NOT put pudding in your Jellinator. That would be a whole lot of clogged up mess.