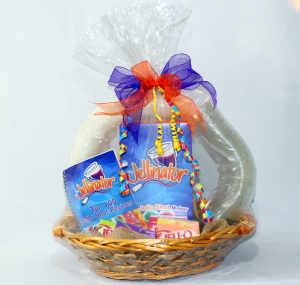 Want to give a fabulous gift basket without running all over town for supplies?
Then the Jellinator Gift Basket is perfect for your needs!  We've done all the work for you…
Everything you need for the perfect gift basket is included.  Simply add a bottle or two of your favorite spirits!  No Stress Gift-Giving!  And sure to thrill the pants off the recipient!
JELLINATOR JELLO SHOT GIFT BASKETS ARE GIFTS THAT KEEPS ON GIVING…IN A GOOD WAY!
FUND RAISER BASKET!
Jellinator baskets are perfect for an auction or trivia night gift basket.  We've seen a fair share of bidding wars over these babies!
BRIDAL SHOWER GIFT BASKET!
What bride or bachelorette wouldn't love a Jellinator basket?
GRADUATION GIFT BASKET!
And what else would a newly legal 21-year-old want? Way more fun at college than school supplies!
BIRTHDAY GIFT BASKET!
Don't even get us started on the Guess-Who's-Thirty-Forty-Fifty parties!
Your Jellinator Gift Basket includes the following items:
1 Jellinator
1 Top 100 Recipes Cookbook
125 jello shot cups with lids
1 Basket
Basket filler
1 Shrink wrap dome bag
1 Ready-made bow and ribbon
6 boxes of Jell-O brand Jello
Everything you need to make 125 jello shots (except the booze*)
*Alcohol not included….(We recommend one fifth of vodka and one fifth of triple sec for the perfect basket.)
Easy assembly:  simply place the basket in the bag, fill with contents, pull up the sides of the bag and secure with bow.  Bag can be left as is, or simply heat bag with a heat gun or hairdryer to "shrink wrap" your basket.  Viola!