Whether you're having a quiet night alone with your sweetheart, or a Valentine theme party, Valentine jello shots will get everyone in the mood for love!
Valentine (champagne n strawberries) Jello Shots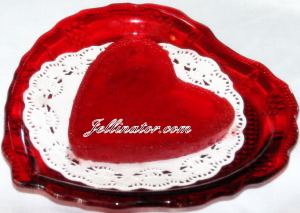 Dissolve 1 box strawberry jello in half cup boiling water.
Add 1-1/2 cups champagne. Jellinate and chill.
Yield: 15 shots  *Just as delicious with raspberry jello.
Flirtini Jello Shots
*Tiny Champs and Tiny Tini 2 oz. glasses featured. Available here at Jellinator.com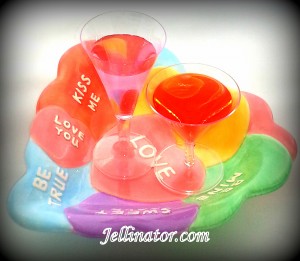 1 box Pineapple jello dissolved in
1 cup hot water.  Add:
½ cup raspberry vodka (or regular)
½ cup triple sec
¼ cup raspberry sherbet
Fancy Pants Jello Shots

1 box raspberry jello dissolved in 1 cup hot water.
½ cup vodka
½ cup Chambord or raspberry schnapps
Garnish with a raspberry before serving.
What cozier for two than a classic Cheese Fondue?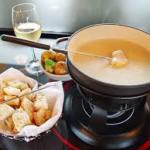 1/2 pound Swiss-style cheese such as Jarlsberg or Emmenthaler, shredded
1/2 pound Gruyere cheese, shredded
2 tablespoons flour or cornstarch
1 garlic clove, halved crosswise
1 cup dry white wine (such as Sauvignon Blanc)
1 tablespoon lemon juice
1 tablespoon kirsch (cherry brandy)
1/2 teaspoon dry mustard
Pinch of nutmeg
Assorted dipping foods such as cubed day-old French bread, cubed ham, blanched broccoli, carrots, or cauliflower, cherry tomatoes, chopped green bell peppers, and chopped apples or pears.
Place the shredded cheeses and flour in a plastic bag. Seal; shake to coat the cheese. Set aside.
Rub the inside of a 4-quart pot with the cut garlic. Add the wine and lemon juice; bring to a low simmer. Slowly stir the cheese into the wine. Stir constantly in a zig-zag pattern to prevent the cheese from balling up. Cook just until the cheese is melted and creamy. Do not let boil. Once smooth, stir in kirsch, mustard and nutmeg.
Transfer the cheese to a fondue serving pot, set over a low flame to keep warm.
Happy Valentine's Day from The Jellinator!
Like these recipes? Find even more recipes in our Top 100 Jello Shot Recipes booklet. It's a MUST behind any bar and makes a great gift. Every recipe is concocted personally by Trish and taste-tested!
Don't miss out!  Sign up for our Ultimate Party Newsletter. Here at the Jellinator, we are always working on new party ideas.
*All Jellinator Jello Shot recipes and photos are Copyright protected