Memorial Day, 4th of July, Labor Day…what do they have in common? Summertime BBQs, baby! 
Let's whip up a few great recipes to go with your BBQ, and get to the party FASTER!  We are ALL about DELICIOUS food, AMAZINGLY TASTY jello shots, all done in a FLASH!  No mess, no stress!  You've got better things to do than hang around the kitchen all day.  But nobody wants store-bought coleslaw… seriously.  Throw the mayonnaise potato salad out the window and save Uncle Buck from salmonella this year.  We've got you covered with some great recipes right here.
GUMMY JELLO SHOTS!
What better way to celebrate the pool opening or some lake house shenanigans!
1 box (3oz.) berry blue jello dissolved in one cup hot water.  Add:
½ cup gummy vodka
½ cup peach schnapps
Garnish with Swedish fish after shots chill for 30 minutes. Yield: 15 shots
PINEAPPLE UPSIDE-DOWN CAKE JELLO SHOTS!
1 box pineapple jello dissolved in ½ cup hot water AND ½ cup pineapple juice.
½ cup cake vodka
½ cup triple sec
Splash grenadine
Maraschino cherries
Place cherries in shot cups. Pour jello over.  Chill. Swirl a bit more grenadine on top of shots before they completely set.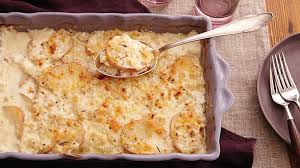 EASY WHITE CHEDDAR SCALLOPED POTATOES
3 pounds Yukon gold (or russet) potatoes, thinly sliced (no need to peel)
Salt and ground white pepper to taste
8 ounces white cheddar cheese*, shredded (about 2 cups)
1 cup heavy whipping cream
Arrange about a third of the potato slices in greased 9 x 13-inch baking dish; season with salt and pepper. Top with a third of the cheese. Repeat layering of potatoes, cheese, and seasoning to make 3 layers. Pour cream over potatoes. Cover with foil and bake at 400°F. for 45 minutes. Uncover and bake another 10 to 15 minutes.  These still taste great when cooled down to room temp.
*good with many types of cheese, so you can use what you have on hand or what's on sale
Mama Piazza's "better-and-easier-than-everybody's" Mexican Layer Dip
I can Old El Paso spicy refried beans
1 cup sour cream mixed with ½ packet of taco seasoning
2 cups finely shredded mexican cheese blend
1 8 oz. jar Old El Paso Thick and Chunky salsa, drained through a fine mesh colander
1 small can green chilies, drained of liquid
Spread beans in a 9×13-inch dish or serving platter. Spread sour cream mixture over beans. Top with cheese, then salsa chunks, then green chilies. Serve with tortilla chips.
*so easy, but better than any layer dip out there