Easter Party Ideas
Yo Chickies!  Spring parties abound!  It's Easter!
Whatcha gonna do now that those little cluckers are too old for hunting eggs?  How about an egg hunt that no adult can resist?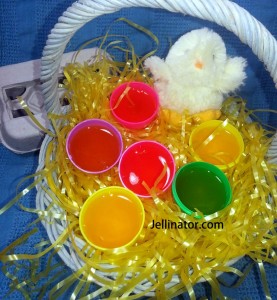 You guessed it… A JELLO SHOTS EGG HUNT!  But not just any jello shots.  How about plastic eggs filled with jello shots?  What could be cuter?
Instructions:
You will need to save a few egg cartons for easy storage.  Place each empty carton on a baking sheet for the ease of getting it into the fridge later.  Next, simply place each plastic egg half in an egg compartment of the carton.  Mix up your favorite jello shot recipe, and go ahead and jellinate right on into each egg half.  Chill until set (about an hour).  You can then snap those egg halves right on back together and chill really well.  You will now be all set to hide them or set them out in a pretty bowl for your guests.
Have guests bring their own baskets for the hunt. Rather, if you want to get really creative, you can have guests decorate plain baskets that you've purchased earlier, and give a prize to the most original, prettiest, or ugliest basket!  A prize can be anything from some bunny ears to a cute Easter dishtowel.  Any craft store will have ready-to-glue-on pompons, feathers, gemstones, beads, garland, mesh, flowers, etc.
Here's a yummy recipe suggestion for filling those eggs:
Berry Coladas
1 box Blackberry or Raspberry jello dissolved in
½ cup canned pineapple juice and
½ cup hot water.  Cool and bit, then add:
½ cup coconut rum (Malibu)
½ cup raspberry liqueur (Chambord)
¼ cup coconut cream (the stuff of colada dreams)
Now jellinate your little heart out, chick-a-dee!     Happy Easter to you!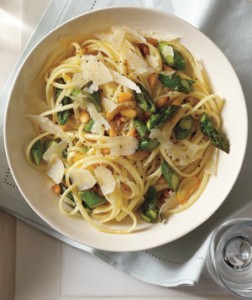 Springtime Asparagus Linguine
1 box linguine
1 lb. chicken meat, sliced
Olive oil
4 cloves garlic, minced
¼ cup pine nuts
½ cup sundried tomatoes (reconstituted by soaking in water for 30 minutes, if not oil-packed)
½ cup chicken or veggie broth
½ cup dry white wine
2 pounds asparagus, trimmed to 1 inch pieces
1 tsp. each oregano, basil, poultry seasoning, salt, black pepper
1 cup parmesan cheese, shaved
Cook linguine according to package directions.
In a large skillet over medium heat, cook garlic and onion in 2 Tbsp. olive oil. And chicken, wine, and broth; cook until chicken is no longer pink. Remove chicken with slotted spoon. Add spices, asparagus, tomatoes, and pine nuts; cook a few minutes more. Remove from heat.
Drain linguine; toss with chicken mixture and asparagus. Sprinkle with Parmesan cheese. Yield: 6-8 servings. Serve with crusty bread and salad.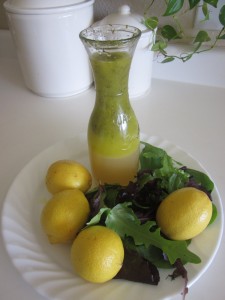 Lemon Salad Dressing
½ cup fresh squeezed lemon juice (1 whole lemon)
½ cup olive oil
1 Tbsp. Dijon mustard
1 clove garlic, minced (optional)
1 tsp. thyme
1 tsp. salt
1 tsp. black pepper
Shake all ingredients together like a polaroid picture!