SO, your best friend is turning 21 (finally!) and you need some ideas.  What drinks do I serve? Should I get her a gift? Do I make a cake? Do people still like cake? That's an easy one- YES- people still love cake.
Now on to the harder questions: What drinks do I serve?  You could be like every other college-aged person and get her a bottle of vodka OR you could make something really fun, like jello shots.  Jello shots transform every gathering into a real party.  "Last night was so lame, I hung out at Katie's and did a bunch of jello shots." –said no one ever! And I just happen to have the perfect pink jello shots recipe for your bestie's 21st. Even their name screams for a good time: Kinky Malibu Barbie. Here's the good news. They're super easy and totally adorable. The bad news? They're so good that the Birthday Barbie may lose her little plastic shoes after too many of these babies.
Kinky Malibu Barbie Jello Shots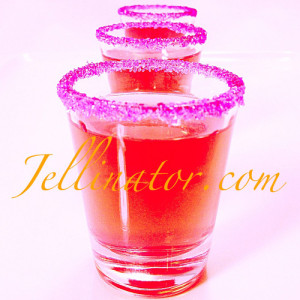 – 1 box Peach Jello
– 1 cup hot water
– ½ cup Malibu Rum
– ½ cup Kinky Liqueur (pink)
First, boil 1 cup of water in a small saucepan.  Add your box of Peach Jello and stir until dissolved.  Remove from heat.  Stir in ½ Malibu Rum and ½ cup Kinky Liqueur.  Use your Jellinator to fill your shot cups quickly; no mess, no stress!  You can find it here: www.jellinator.com
(Also the cheapest place to buy shot cups, find recipes and party ideas, and so much more!)
If you're feeling fancy, coat the rims of the cups with pink sugar . Voila! With minimal effort, you just became the chicest hostess ever.
21st Birthday Cake Ideas: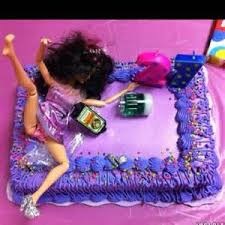 Now speaking of Barbie and Cake, you should have cake.  But not just any cake…
No self-respecting 20-something girl is going to be able to hold back from Instagramming a cake like that.  Extra points if the Barbie looks like your friend.  These can be super simple too; you don't need to be Marta Stewart.  Just get a Barbie, and a pre-made cake. You can even use the left over pink sugar from your Kinky Malibu Barbie Jello Shots to make some pretend drink spills or even some Barbie "barf" from too many jello shots.
The Big Night: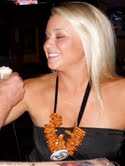 Since your Birthday Barbie is probably going to be offered far too many shots from all the guys at the bar, it's your job as her bestie to make sure she makes it through the night.  No body wants to vomit on their Birthday Dress.  We have a few tricks to avoiding that mess.  First, the Pretzel Necklace.  This is just a pretty ribbon or string that you use to thread together a bunch of pretzels that the Birthday Girl wears as a necklace.  As much we wish boys would buy us a round of nachos, they don't, they buy us rounds of shots.  And the pretzel necklace is crucial to keeping some food in your bestie's belly.  This way you don't have to worry, she'll have some good solid carbs around her neck all night.
The Bejeweled Water Bottle: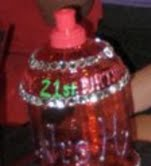 Who wants to drink water on her 21st Birthday? No one, that's no fun.  But it's your job to make sure the Birthday Bitch is well hydrated.  You know she's not going to drink water throughout the night unless it's from a pretty and personalized water bottle.  You can usually find these clear colorful ½ gallon bottles at Wal-Mart and all you need is some puff paint or jewels to make it gorgeous.
21st Birthday Gift Ideas:
My favorite gifts are not always the ones that cost a lot of money, but the ones that are different and fun.
1. 21st Birthday gift basket.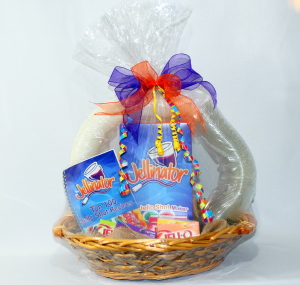 You can fill this with any of her favorite things. For example, if your girl likes jello shots, a jello shot themed basket would be perfect!  Give her all the things she would need to make the Kinky Malibu Barbie shots you made at her party!  Of course, we have everything you need for one low price right here in our online store, including basket, bow, and shrink wrap: The Jellinator Gift Basket on sale now at Jellinator.com!
2. Bedazzle her favorite alcohol bottle. Or you can always bedazzle your Jellinator!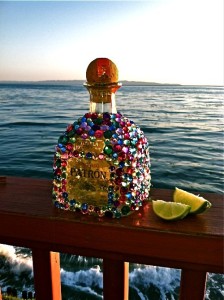 Jewels and hot glue, or mix it up with some spray glitter.  All of these are easily found at any craft store.  And how cute would this look on a shelf at her apartment? Remember…The Jellinator is the gift that keeps on giving! It's her turn to make the shots next time.
Happy 21st! Stick together and stay safe, girlfriends!