Perfect Jello Shots Recipe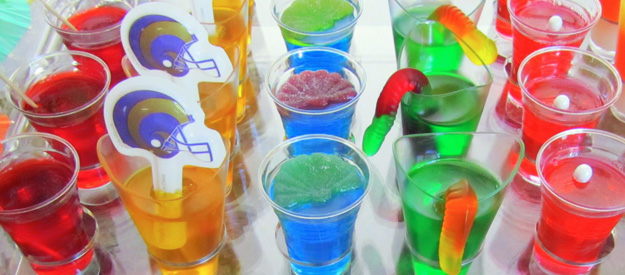 From a basic jello shooter recipe to our specialty jello shots, you can find the perfect jello shots recipe at Jellinator.com
Jellinator PERFECT Jello Shots Recipe:
1 cup boiling water or juice*
1 small box jello (3 oz.)
½ cup vodka
½ cup flavored liqueur/ schnapps/ pucker**
Dissolve jello in 1 cup of boiling water. Remove from heat. Add the vodka and liqueur. Pour jello mixture in to your Jellinator and fill your shot cups. Refrigerate until set (approximately 3-4 hours).
*Use only CANNED pineapple, kiwi, guava, or papaya juice, as the bromelain enzyme in the fresh fruit or juice will prevent your jello shots from jelling. And that, my friends, would be tragic.
**If you decide to use just hard liquor without schnapps, then increase amount to 2/3 cup vodka, rum, etc. plus 1/3 cup water or juice for every 3 oz. box of jello (or 1 cup liquid + Knox gelatin). Otherwise, what's the point? THEY'RE CALLED SHOTS FOR A REASON, NANCY-BOY!
Use this recipe to come up with great recipes on your own! Go on, you can do it. Get out there and make us some bodacious jello shooters! WE HAVE FAITH IN YOU! You know you want to. Your friends want you to. Even Mama likes a little jiggley yum-yum every now and then.
*All Jellinator Jello Shot recipes and photos are Copyright protected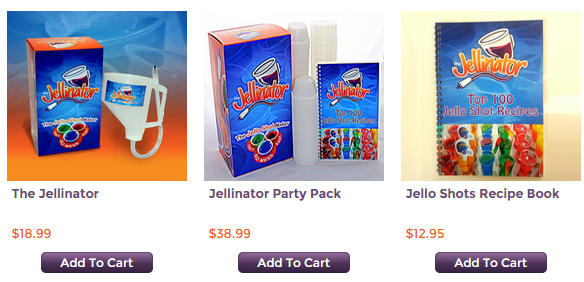 ---
No matter what jello shot recipe you use, you need the Jellinator. Why? Because unless you like it slow and sticky, you need a Jellinator!
And here is the important part: the Jellinator will keep you from spilling and wasting the booze (the secret ingredient, shhhh!).
Now grab your Jellinator by the horns and LET'S JELLINATE!
It's the ONLY way to make jello shots!