The Ultimate Float Trip Checklist
Whether you've been on a thousand float trips or this is your first one, you are going to need all of these essentials during your day of debauchery. Trust us, we invented the Jellinator, clearly we're the type of people who know our way around a float trip and we ALWAYS come prepared.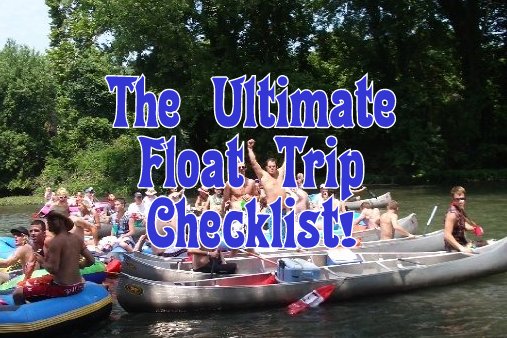 Float Trip Essentials:
Pick your day, Saturday day trips in the summer are best. You must call and reserve your boats ahead of time with an outfitter. Canoes hold 2 people, rafts hold multiple, and kayaks typically hold 1, so plan your numbers accordingly. You don't want anyone getting stuck floating alone. The outfitter will provide a place for you to park and then when you arrive they will bus you upstream. The advantage of being bused upstream is when you're done floating and tired, you will end your journey at your car/campground.
Choose your length. 8-10 mile floats are the best, even with a chill pit stop for lunch on one of the banks, you can usually get down the river in about 4-5 hours.
Beer, and plenty of it. Basically decide how much beer you think you'll need, and then double it. There aren't gas stations along the river and no one wants to get a buzz on and run out of beer with 2 hours left of floating. Just make sure you buy cans because glass is prohibited on rivers. Kegs are also not allowed.
Water. Everyone is so concerned about alcohol that most people forget to pack a case of water. Rookie mistake. Remember, you're going to be in the hot sun for hours and alcohol is dehydrating. About half way through people start actually requesting water, and obviously drinking river water isn't an option unless you want to risk the runs for the next few days.
A cooler. Gotta keep dem beers cold. Most rivers require a cooler that securely fastens in case your boat tips, so no foam coolers.
Bungee Cords. This is another necessity that people don't realize they needed until it's too late. You're going to want bungee cords to fasten your cooler to your canoe or raft so if and when you tip, you don't have to chase your cooler, and possibly everything in it, downstream.
Food. We all know what happens when mama drinks on an empty stomach. Don't let that be you! Pack your cooler with sandwiches, chips, trail mix or even grapes. Anything that can survive in a cooler for a couple hours is good.
Koozies. Nobody likes hot beer!
Sunscreen, and a hat. Even the deepest of skin tones usually can't handle 5 straight hours of beating down sun, so lube up!
A swimsuit, bug spray, a towel and extra change of clothes. These should be pretty self-explanatory.  Keep your towel and change of clothes in the car unless you have a heck of a…
Dry bag! You're inevitably going to have things with you that you don't want to get wet such as cell phones so make sure you have a dry bag or plastic bags with you.
Tight-fitting water shoes. Don't even think about wearing flip flops. If you flip that boat of yours you can say buh-bye to those babies. Not to mention, they don't protect your feet at all from sharp rocks or glass that could be on the river bottom.
Jello Shots. Now if you're the type of person who likes to make friends, then the absolute best way to do this on the river is to bring jello shots. If you've never yelled to another raft full of people, "Hey you guys want some jello shots??!" Then you can't even imagine the response. You might as well have just asked them if they want a million dollars. Just make sure you purchase some biodegradable cups and lids because intoxicated people tend to throw these right in the river and we're just tryin' to have a good time, not harm Mother Nature. Oh and if you're the lucky one who's going to be making all these jello shots, then you need a Jellinator. Otherwise you're going to be cussing your friends as it takes you hours to make all your shots. But don't worry, we gotchu.
Your dog. (optional) Most rivers allow obedient dogs, just call and make sure first. But don't bring Fido if it's going to be too hot and he doesn't like to swim!
Costumes. (optional) I've seen it all on the river. You can even organize a theme for your whole group!
Disposable Water Proof Camera. (optional) We don't recommend you bring a digital camera with you or using your phone for pictures even if you have a dry bag. Obviously Jessica or Evan is bound to do something hilarious and you're going to want to capture the moment, but what happens when you open the dry bag, and Chris decides to flip your canoe? Cya later iPhone, totally not worth it. These cameras are only like $12 at Walgreens. Plus, it's way more exciting to have the added suspense of not getting to see the pictures until next week.
Waterproof portable speakers. (optional) Everyone is always jealous of those rafts that are bumpin' beats.
Congratuations! You're now officially ready to embark on your journey and enjoy one of America's favorite pastimes! Just don't forget to bring your common sense! You're still on a river and there is risk for serious injury, so drink responsibly and keep your wits about you.