Get 'Em While It's Hot!  5 must-try SUMMER JELLO SHOTS recipes!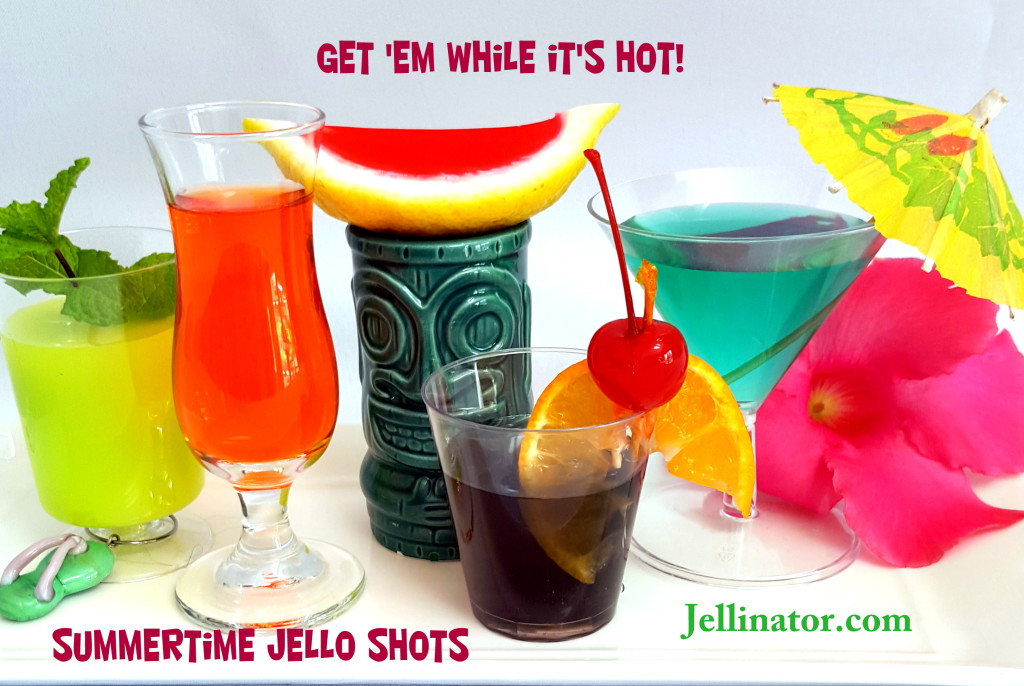 These shots aren't fancy, just fabulous tasting! SERIOUSLY.
Because why go to the trouble if you aren't going to make everyone oohh and ahh?
Every single one of these recipes is formulated and tasted in Trish's Jellinator kitchen. Then on the boat, and at the pool, and at the lake, at every party she attends…whew! That Trish is one busy gal, but her friends sure do appreciate it. Because she knows her jello shots! Now you can too. Here are 5 jello shot recipes you must make this summer!
*All Jellinator recipes and photos are copyright protected.
Summer Sangria Jello Shots
These look and taste just like a red sangria, and BONUS, recipe makes a double batch!
1 box each: Lime & Cherry jello dissolved in
2 cups hot water.
Add:  1 cup vodka
1 cup watermelon schnapps
Garnish with an orange wedge and a cherry.
Mai Tai Jello Shots
Holy Hawaii! We'd sport a coconut bra for one of these tropical, summer jello shots!
1 box Pineapple jello dissolved in
½ cup pulp-free orange juice AND
½ cup hot water.  Add:
½ cup rum
¼ triple sec
¼ Amaretto
Juice of 1 lime
Don't forget the fancy umbrella pick!
Lime in the Coconut Jello Shots
And call me in the morning and let me know how much everyone loved these babies!
1 box Melon fusion jello dissolved in
½ cup lime juice AND
½ cup hot water.  Add:
½ cup coconut rum
½ triple sec
2 tbsp. cream of coconut
These are super cute served in hollowed out lime halves. Or garnish with a sprig of mint.
Pink Lemonade Jello Shots
A hollowed out lemon half makes the perfect mold for this shot. So cute and sooo yummy.
1 box Strawberry jello dissolved in
¼ cup lemon juice AND
¾ cup hot water.  Add:
½ cup lemon vodka
½ cup triple sec
Add 1 package of Knox gelatin if molding your shots.
Slice lemon halves into wedges before serving.
Island Fever Jello Shots
The perfect shade of turquoise, just like the Caribbean! And wait until you try 'em! Honeydew and coconut, with just the right amount of tart…A tropical teal treat!
1 box Melon Fusion jello dissolved in
1 cup hot water. Add:
½ cup coconut rum
½ cup Island Punch (sweet and sour) schnapps