Let's talk Memorial Day!
What better way to celebrate the pool opening weekend or your first time back to the lake house than these water-inspired jello shots.
What about the 4th of July?  And you'll need Labor Day jello shots!
Gummy jello shots are the perfect colors for your patriotic party.  And sooo yummy!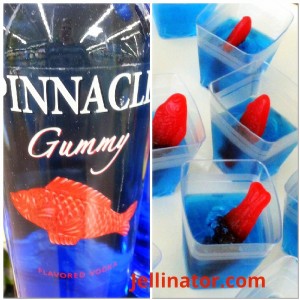 GUMMY JELLO SHOTS!
1 box (3oz.) berry blue jello dissolved in one cup hot water.  Add:
½ cup gummy vodka
½ cup peach schnapps
Garnish with Swedish fish after shots chill for 30 minutes. Yield: 15 shots
*All Jellinator Jello Shot recipes and photos are Copyright protected