ST. PATRICK'S DAY PARTY IDEAS
Need some great shooter recipes for St. Patty's Day? You lucky leprechaun! Our St. Patty's shots aren't just green, they're Magically Delicious!
Here's a few of our best St. Patrick's Day Jello Shots! (Remember, you'll find lots more St. Patty's Day jello shot recipes in our Top 100 Jello Shot Recipes booklet)
Pictured: Key Lime Pie in Tiny 'Tini 2 oz. cups. Order now!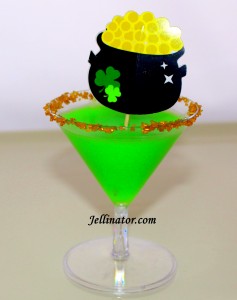 KEY LIME PIE JELLO SHOTS
1 box Lime jello dissolved in
1 cup hot water. Add:
½ cup whipped vodka
½ cup vanilla schnapps
¼ cup lime sherbet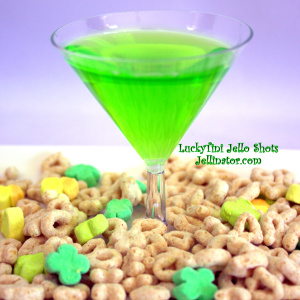 LUCKYTINI JELLO SHOTS
1 box melon fusion jello dissolved in
1 cup hot water. Add:
½ cup cucumber vodka
½ cup Midori melon liqueur
Man can't live on jello shots alone!
Whether you are hosting a party or just want something yummy and comforting after a parade, you won't find better St. Patrick's Day recipes.
Did we mention Mama Jellinator is a seriously righteous cook? Trust us.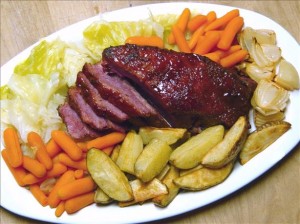 CORNED BEEF AND CABBAGE
3-4 lbs. corned beef brisket (flat cut)
2 cloves garlic
6 whole cloves
2 bay leaves
2 beef bouillon cubes
2 onions, sliced
1 head cabbage, cut in four wedges
1 (1 lb.) bag baby carrots
4 bag small red potatoes
GLAZE:
1 cup brown sugar
2 tablespoons prepared mustard
1 teaspoon ground cloves
Slow boil** (1 hour per pound) the meat with spice packet that comes with it; AND onions, garlic, cloves, bay leaves, and bouillon cubes. Add the carrots and taters during the last 30 minutes of cooking.
**OR LET IT COOK ALL DAY IN THE CROCK POT (meat on bottom covered with water and spices; veggies on top)
Remove the cooked meat and place it in a shallow baking dish lined with tin foil, fatty side up.
Mix glaze ingredients together and spread on the scored meat.
Bake in hot oven 400 degrees 20 minutes. Serve with the veggies.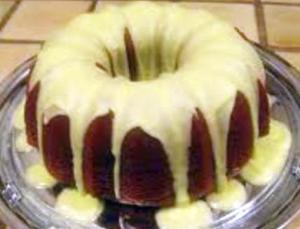 MIDORI BUNDT CAKE
Kids LOVE this moist green cake! (The alcohol cooks out of the cake, don't worry)
1 (18 oz.) box yellow cake mix
1 (3 oz.) package instant pistachio pudding mix
4 eggs
½ cup plain yogurt or sour cream
½ cup vegetable oil
¾ cup Midori melon liqueur
½ teaspoon coconut extract
Frosting:
2 cups powdered sugar
¼ cup Midori melon liqueur
¼ cup cream cheese
2 tablespoons butter
½ teaspoon coconut extract
Directions:
Preheat oven to 350 degrees F.
Combine all cake ingredients. Beat 4 minutes. Pour into well-greased Bundt pan. Bake 35 to 45 minutes. Cool in pan 15 minutes. Remove from pan.
HAPPY ST. PAT'S!  HAPPY JELLINATING!  YOU KNOW YOU NEED A JELLINATOR!
For frosting: Mix all ingredients until smooth and spreadable. Frost cake while it's still warm.