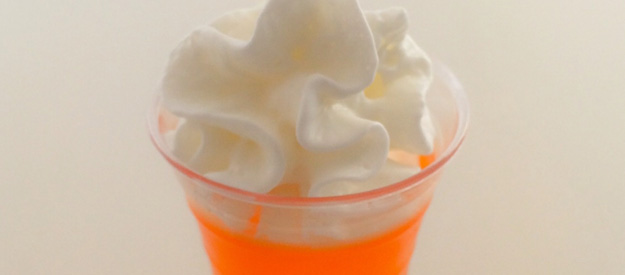 Creamy, dreamy, orange goodness! Remember chowing down on frosty dreamsicles as a kid in the summer. This recipe will take you back. So easy, so delicious;  everyone asks for more! You can substitute some cream of coconut for the ice  cream; or omit both. Either way, these babies are awesome. We know you can find  other dreamsicle recipes out there, but look no further. Jellinator recipes are taste tested and don't disappoint. BOOYA!
Dreamsicle Jello Shots
1 box orange* jello
½ cup whipped cream flavored vodka
½ cup triple sec
1/4 cup vanilla ice cream or orange sherbet, optional
Dissolve jello in 1 cup of boiling water. Remove from heat. Add the vodka, liqueur,  and ice cream. Pour jello mixture in to your Jellinator and fill your shot cups FAST. No mess! No stress!
Refrigerate until set (approximately 3-4 hours). To serve, garnish with skewered mini
marshmallows.
Yield: 15 shots
No matter what jello shot recipe you use, you need the Jellinator. Why? Because unless you like it slow and sticky, you need a Jellinator!
And here is the important part: the Jellinator will keep you from spilling and wasting the booze (the secret ingredient, shhhh!).
Now grab your Jellinator by the horns and LET'S JELLINATE!
It's the ONLY way to make jello shots!
Jello Shots Recipes FAQ's:
How many shots am I making?
1 small box of jello yields about 15 jello shots (2 cups of liquid). 2 boxes (or 1 large 6 oz. box) yield 30 shots, which will fit nicely on a baking sheet to transport them easily to the refrigerator.
How much booze should I buy?
1 fifth of vodka, 1 fifth of liqueur, and 6 boxes of jello yield 90-100 shots.
How do I store my shots?
Always cover your shots before you chill them so they don't get hard and gummy. If covered, the shots should keep for a month or so. A layer of plastic wrap is fine.
Can I use sugar-free jello?
Yes. 'Nuf said.