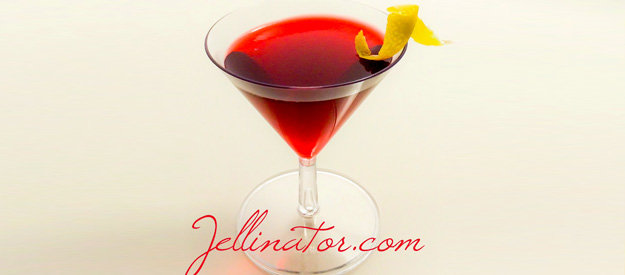 What's the only pink drink sexy enough for Carrie Bradshaw and the girls? The Classic Cosmo, of course! Not fussy; just fabulous! Because this gal knows what's real. And like a best friend, you know you can trust the Jellinator's Cosmopolitan recipe. So grab your Jimmy Choos and let's jellinate!
Cosmopolitan Jello Shots
1 box cranberry jello, 3 ounces
½ cup vodka
½ cup Cointreau or triple sec
splash of lime juice
Dissolve jello in 1 cup of boiling water. Remove from heat. Add the vodka, liqueur, and juice. Pour jello mixture in to your Jellinator and fill your shot cups FAST. No
mess! No stress!
Refrigerate until set (approx. 3-4 hours). To serve, garnish with an orange or lemon rind curl made with a vegetable peeler. Fabulous!
Yield: 15 shots
Like this recipe? Find even more recipes in our Top 100 Jello Shot Recipes booklet. It's a MUST behind any bar and makes a great gift. BAM! These recipes don't
disappoint.
Speaking of being fabulous, don't forget to sign up for our Ultimate Party Newsletter. Here at the Jellinator, we are always working on new party ideas. Don't miss out on
the fun!
Sign up for our ULTIMATE PARTY NEWSLETTER. Don't worry, we can't stand spam either. We will just hit you with some great jello shot recipes, yummy food ideas, seasonal party tips, and a coupon for more party supplies every few months. What could be better than that!
JELLO SHOTS! JELLY SHOTS! JELLO SHOOTERS!
Whatever you call them, it's not a PARTY without 'em!
Don't forget…The Jellinator is the only way to make jello shots! No mess! No stress!
Jello Shots Recipes FAQ's:
How many shots am I making?
1 small box of jello yields about 15 jello shots (2 cups of liquid). 2 boxes (or 1 large 6 oz. box) yield 30 shots, which will fit nicely on a baking sheet to transport them easily to the refrigerator.
How much booze should I buy?
1 fifth of vodka, 1 fifth of liqueur, and 6 boxes of jello yield 90-100 shots.
How do I store my shots?
Always cover your shots before you chill them so they don't get hard and gummy. If covered, the shots should keep for a month or so. A layer of plastic wrap is fine.
Can I use sugar-free jello?
Yes. 'Nuf said.