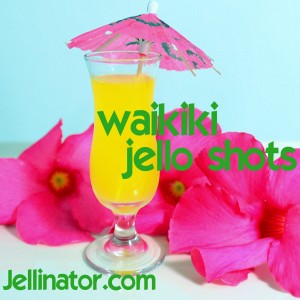 It's Tiki Time!
Waikiki Jello Shots Recipe… What could be cuter for your Luau!
1 box Pineapple jello
1 cup 7-Up
2/3 cup cherry vodka
1/3 cup orange juice
Directions:
Heat soda to a very low boil. Dissolve jello in soda. Remove from heat.
Add vodka and juice.
Jellinate and chill until set.
Don't forget your grass skirt and coconut bra, hula girl (or boy)!
*All Jellinator Jello Shot recipes and photos are Copyright protected
Find even more SUMMER FUN jello shot recipes in our Top 100 Jello Shot Recipes booklet. It's a must-have in every kitchen or behind any bar.
No matter what jello shot recipe you use, you need the Jellinator. Why? Because unless you like it slow and sticky, you need a Jellinator! And here is the important part: the Jellinator will keep you from spilling and wasting the booze (the secret ingredient, shhhh!).  Now grab your Jellinator by the horns and LET'S JELLINATE!
It's the ONLY way to make jello shots!
Check back frequently as we are always adding new recipes as well as new products to our product line up.  You can get all your party supplies and party ideas here. Just go to the search bar on our home page, and
search any holiday or theme

. We've got you covered!