Valentine's Day Jello Shots
Need something sweet for your sweetie?  How about a Flirtini?
It's the perfect Valentine's Day jello shots recipe.
*Tiny Champs and Tiny Tini 2 oz. glasses featured. Available here at Jellinator.com
Flirtini Jello Shots
1 box Pineapple jello dissolved in
1 cup hot water. Add:
½ cup raspberry vodka
½ cup triple sec
¼ cup raspberry sherbet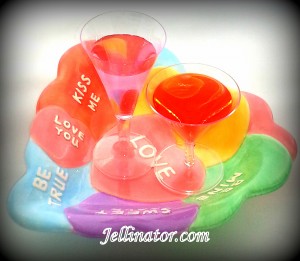 Try a Jello Shot Dessert with your honey:
Jello shots can be layered in regular-sized champagne glasses with whipped cream (and raspberries, optional) between your jello layers and served as dessert! A perfect ending for your perfect night. Talk about a nightcap!
*All Jellinator Jello Shot recipes and photos are Copyright protected