Star Spangled Jello Shots for Your Fourth of July Party
STAR SPANGLED JELLO SHOTS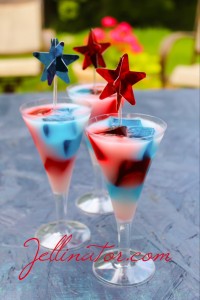 DIY for your Fourth of July party.
What a fun cocktail or dessert for any 4th of July BBQ, picnic, or party!  Pretty easy too…
Ingredients:
1 3-ounce box cherry jello
1 3-ounce box blue jello
1 pkg. Knox unflavored gelatin
1/3 cup cream of coconut
Vodka (1 cup total)
Triple sec (1.5 cups total)
Tiny champs glasses
Star picks
2 loaf pans
1. Prepare loaf pans by spraying with cooking spray. Blot with paper towel to remove excess. 2. Dissolve cherry jello in 1 cup hot water. Add 1/2 cup each vodka and triple sec. Pour into loaf pan and chill until set. Repeat with blue jello and another loaf pan.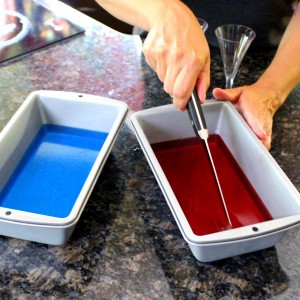 4. With a sharp knife dipped in hot water, run knife around edges to loosen jello. 5. Slice jello into cubes, by first dipping knife in hot water between each cut. Flip up all jello cubes with a flat spatula.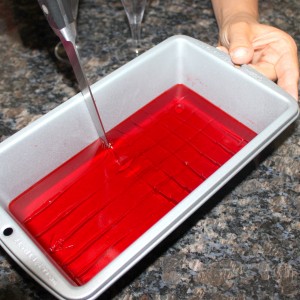 6. White jello: Whisk cream of coconut into 1 cup cool water. Sprinkle with Knox. Let sit 3 minutes. Stir over low heat until dissolved. Add 1/2 cup triple sec. Cool at room temp.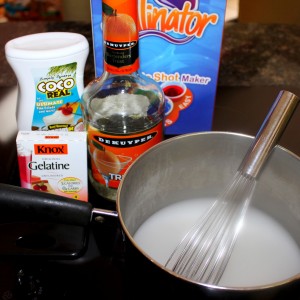 7. Use your Jellinator to fill champs glasses about 2/3 full of white jello.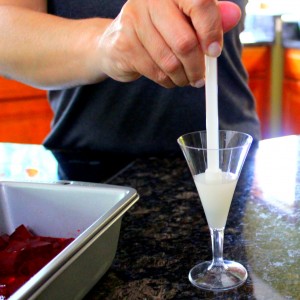 8. Using your fingers, gently drop 5-6 jello cubes into each glass of white jello.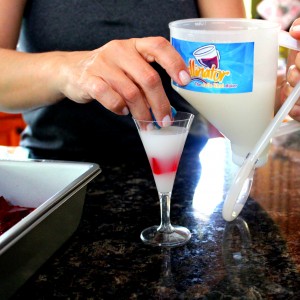 Chill until set. Garnish with star picks. *Peach schnapps can be used in place of the Triple sec in any or all of the jello preparations. I compliments the Triple sec flavor nicely if you use both. For example, use Peach schnapps in the white jello, and use Triple sec in the red and blue jellos. Note: you will still use the vodka in the red and blue jellos regardless of your choice of schnapps. They look much more difficult and time consuming than they actually are.  Trust us, you've got this!
Happy Jellinating!
And remember to Pin this so you can find it when you need it!
*All Jellinator Jello Shot recipes and photos are Copyright protected
GOD BLESS AMERICA!