St. Patty's Day Jello Shots
Want to try something new and different this St. Pat's?
While not a typical Irish cocktail, Key Lime Pie Jello Shots aren't just green, everyone will love them!
Shots this good are a pot o' gold at the end of the rainbow!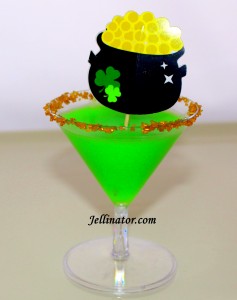 KEY LIME PIE JELLO SHOTS
1 box Lime jello dissolved in
1 cup hot water.  Add:
½ cup whipped vodka
½ cup vanilla schnapps
¼ cup lime sherbet 
Run a lime around the rim of your shot cup, then dip in gold sprinkles.  Refrigerate these a while before you jellinate into them, so the sugar rims are hard.
Check out our St. Pat's Party Idea page for more recipes- both food and drink recipes!
*All Jellinator Jello Shot recipes and photos are Copyright protected