Sparkling French Martini Jello Shots
Valentine's Day Jello Shots? Bachelorette Party Jello Shots? …What's flirtier than a French Martini?
This one is made even more decadent with a sparkling top,
perfect for Valentine's Day or a Bachelorette Party!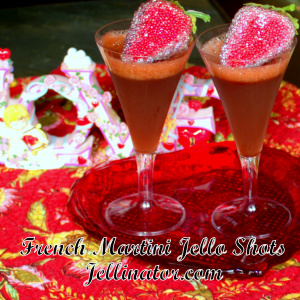 French Martini Jello Shots
1 box Pineapple jello dissolved in
1 cup hot water.  Add:
½ cup vodka (or vanilla vodka)
½ cup Chambord (raspberry schnapps)
¼ cup raspberry sherbet
Garnish with a sugar-dipped strawberry or raspberry before serving.
Check out this video showing you how to put a sparkling top on ANY JELLO SHOT RECIPE!
Sparkling Jello Shots (without champagne or sparkling water)