Happy St. Patrick's Day from folks at the Jellinator!
You won't be disappointed with when you make these jello shots for your St. Patrick's Day festivities. LuckyTini jello shots are the perfect green jello shots in color and in taste.  Melon fusion Jell-O brand jello obviously tastes great with Midori melon liquor, but while there are other Midori jello shot recipes out there, cucumber vodka gives our Luckytini jello shots the perfect kick and knocks back some of the melon sweetness.
They really are magically delicious!
Pin this page so you can find your favorite Jellinator recipe when you need it!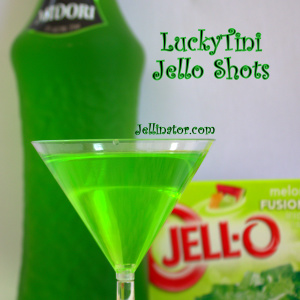 LUCKYTINI JELLO SHOTS
1 box melon fusion jello dissolved in
1 cup hot water. Add:
½ cup cucumber vodka
½ cup Midori melon liqueur
Dissolve jello in one cup of boiling water.  Remove from heat. Add the booze.  Pour jello mixture in to your Jellinator and fill your shot cups FAST.  No mess! No stress! Refrigerate until set (approx. 3-4 hours).   Yield: 15 shots
Check our St. Patrick's Day Party Page for great food recipes to make your party complete.
Find even more St. Patrick's Day jello shot recipes in our Top 100 Jello Shot Recipes booklet. It's a must-have in every kitchen or behind any bar.
No matter what jello shot recipe you use, you need the Jellinator. Why? Because unless you like it slow and sticky, you need a Jellinator! And here is the important part: the Jellinator will keep you from spilling and wasting the booze (the secret ingredient, shhhh!).  Now grab your Jellinator by the horns and LET'S JELLINATE!
It's the ONLY way to make jello shots!
Check back frequently as we are always adding new recipes as well as new products to our product line up.  You can get all your party supplies and party ideas here. Just go to the search bar on our home page, and search any holiday or theme. We've got you covered!