What's more fun than a Halloween Party! Halloween Jello Shots, of course!
Let's scare up some Halloween Jello Shot Recipes and frightfully delicious Halloween party food to make your Halloween party a ghoulishly great time!
Here's everything from glow-in-the-dark jello shots to the prettiest pumpkin pie jello shots you ever did lay a googly eyeball upon.  Not to mention fast, easy, and delicious recipes everyone will love… and get you out of the kitchen and into the fun that much sooner!
Pumpkin Pie Jello Shots!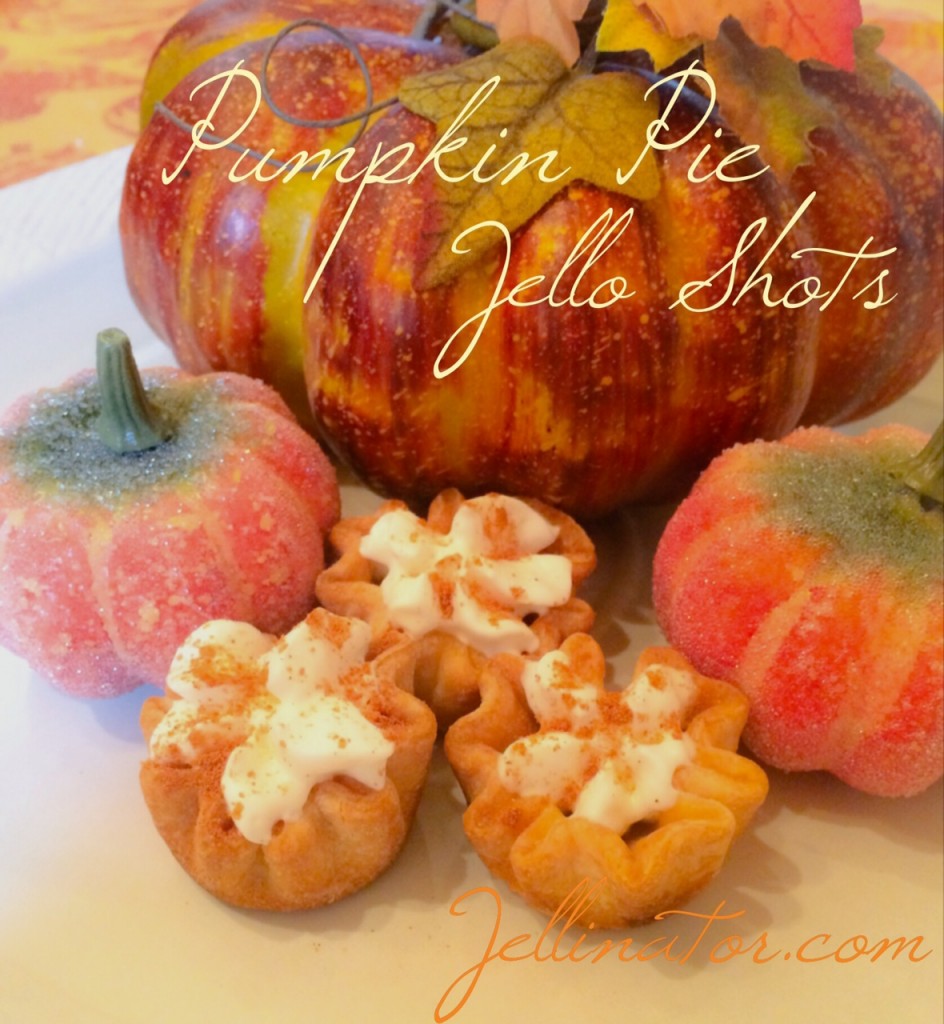 1 refrigerated pie crust, cut in 2 inch circles with cookie cutter or the mouth of a small glass.
Sprinkle 1 package of Knox unflavored gelatin over
1/2 cup of water in a saucepan and let sit for 3 minutes. Turn on medium heat and add
1/4 cup sugar. Stir until dissolved. Remove from heat; let cool.
Add 1 cup Prairie Farms Pumpkin Spice Milk OR pumpkin spice coffee creamer.
Add 1 cup Pumpkin pie flavored vodka OR rum.
Add ½ cup Hirim Walker pumpkin liqueur OR Vanilla schnapps.
Press pie crust circles in to mini muffin tin. BAKE at 450* for 8-10 min until golden brown.  Cool.
Use your Jellinator to put mixture directly into mini pie crusts and refrigerate until set.
Garnish with whipped cream and a dash of pumpkin pie spice just before serving.
Glow-In-The-Dark Jello Shots!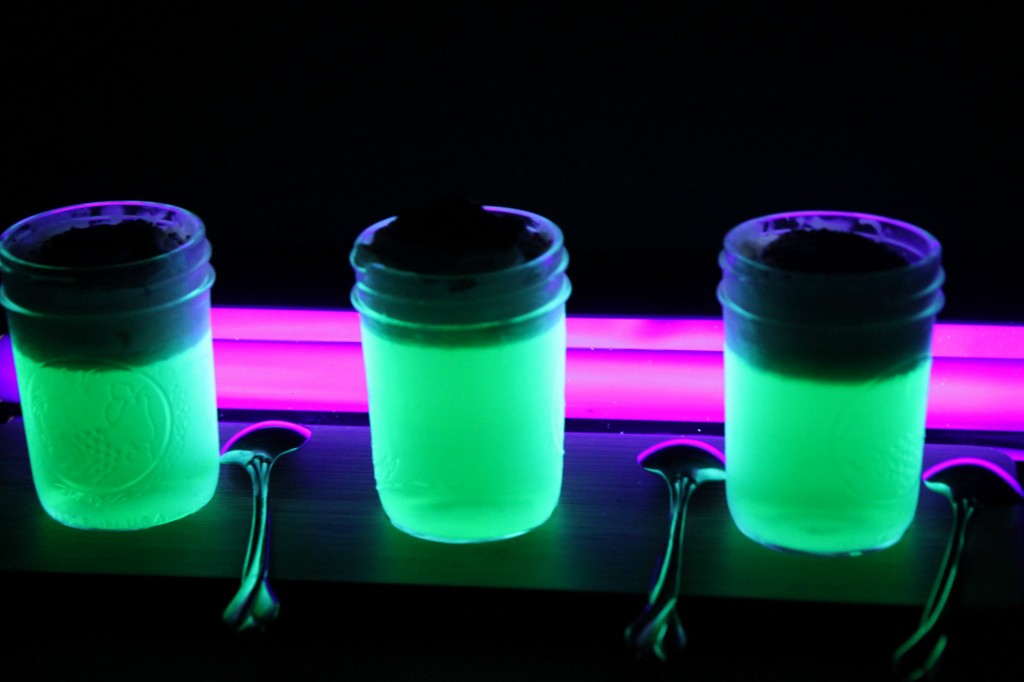 1 pkg. GREEN jello, dissolved in HALF cup hot water.
Add ¾ cup tonic water and
¾ cup loopy or citron vodka. Chill until set.
Place under a black light and watch 'em glow.
SMASHING PUMPKINTINI JELLO SHOTS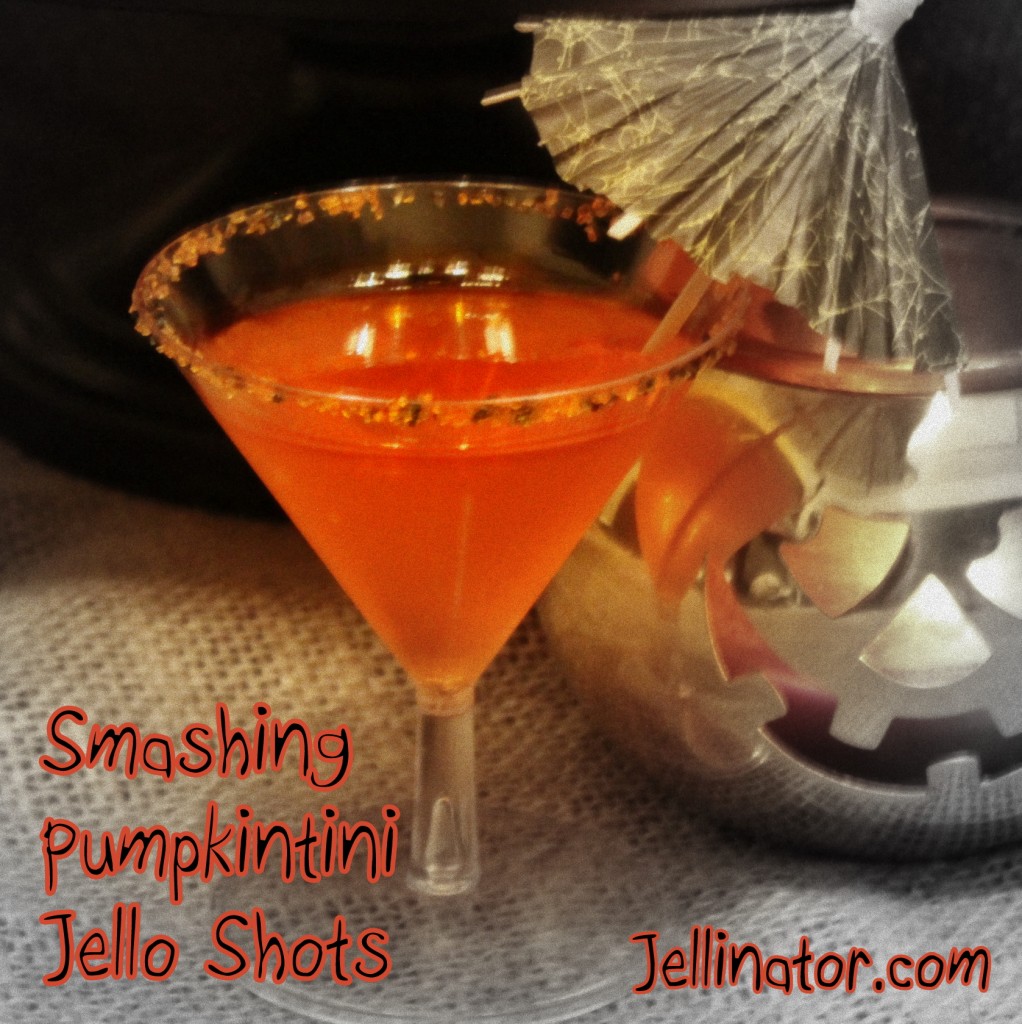 1 box apricot jello dissolved in 1 cup hot water. Add:
½ cup pumpkin pie flavored vodka
½ cup pumpkin liqueur or ginger liqueur
Garnish with a sprinkle of pumpkin pie spice on each.
Jello Shot Syringes! Get your Halloween party supplies at Jellinator.com
Fright Night Nosh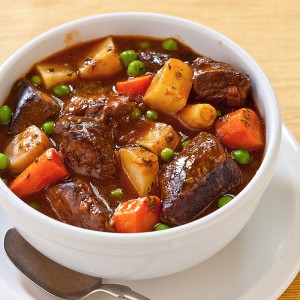 Grandma's Crock Pot Beef Stew
1 cup bacon*, chopped
2 pounds beef stew meat
3 tablespoons all-purpose flour**
2 medium parsnips, chopped
3 large carrots, chopped
2 cups onions, chopped
3-4 celery stalks, chopped
1 bag Red potatoes (24 ounces), chopped
1 can of peas with liquid
1 beef bouillon cube
Add enough water to barely cover ingredients in the crock pot
Seasonings 1 tsp. each: thyme, rosemary, paprika, basil, garlic powder, plus 2 bay leaves.
In a large skillet over medium heat, brown the bacon; place in the crock pot. Place stew meat in slow cooker. Mix together the flour, some salt and pepper to taste; pour over meat, and stir to coat meat with flour mixture. Add all the remaining ingredients to the crock pot.
Cover the pot; cook for 4 hours on high, or 6-8 hours on low.
*if omitting bacon, add a few dashes of Worcestershire sauce  **Gluten free: 1 Tbsp. of arrowroot or corn starch, rather than the flour
Pizza Pinwheels
1 pkg. Refrigerated thin pizza dough
½ pound thinly sliced salami
½ pound thinly sliced pepperoni
2 cups shredded pizza cheese blend
1 Tbsp. garlic powder
1 Tbsp. Italian seasoning
½ cup parmesan cheese
1 jar pizza sauce for dipping
Stretch dough into a 10×14 rectangle.
Layer salami and pepperoni over dough, leaving a ½ inch edge.
Bake at 350* for 25 min. until golden brown.
Cool. Slice and serve with pizza sauce.
Spooky Swamp Sweets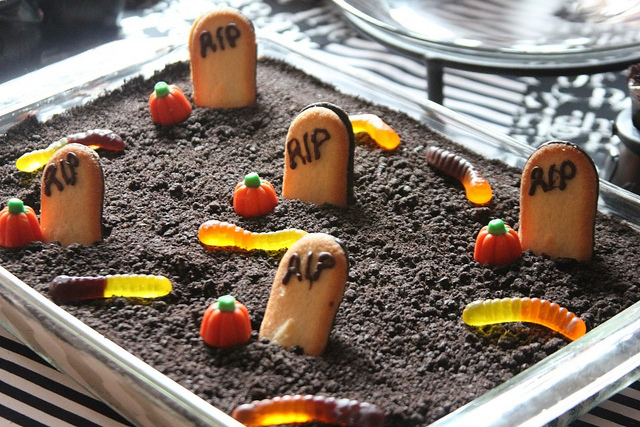 Create an edible swamp or graveyard using crumbled chocolate cake or cookies for dirt, green tinted vanilla pudding for a bog or swamp, gummy snakes, cookie tombstones, green tinted coconut flakes for moss, cotton candy cobwebs, knot-shaped pretzels for fencing, etc. A small plastic shovel can be used to unearth the treats!