Cranberry Old Fashioned Jello Shots
Holiday Jello Shots just in time for the Holidays!
Christmas Jello Shots are jolly! Thanksgiving Jello Shots are soul-satisfying! Every holiday deserves a special jello shot to celebrate the day!
Who doesn't love an old fashioned Christmas? And what about those Thanksgiving traditions and tastes that really bring you back to happy, simpler times of yesteryear? If this is what you are craving this holiday season, Cranberry Old Fashioned jello shots are a sure fire way to bring out the Bing Crosby in everyone who gets a taste.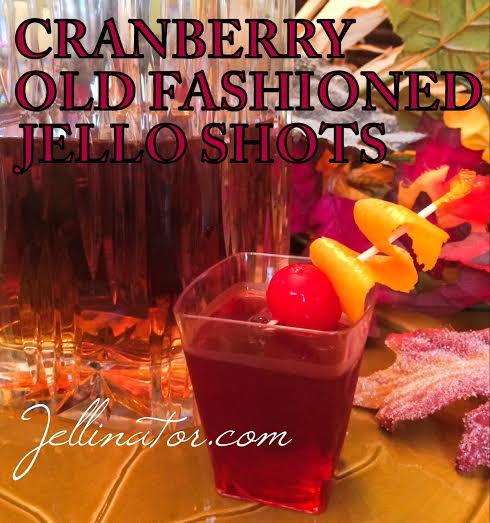 Cranberry Old Fashioned Jello Shots
1 box Cranberry jello
½ cup hot water
½ cup cranberry juice
½ cup bourbon
½ cup triple sec (orange curacao)
4-5 dashes bitters
Garnish with an orange rind and a cherry just before serving.
Heat juice and water until very hot. Add cranberry jello and stir until dissolved. Let cool. And bourbon and triple sec. Jellinate into your cup of choice. We used our Fancy Shmancy Squares, available here at Jellinator.com, because they look like an old fashioned rocks glass. Cover and chill until set, approximately 3 hours. Keep covered until you serve your delicious old fashioned jello shots. Yield: 15 shots. You can make these shots a week in advance, as long as they are well covered. And don't skimp on the bitters- it makes all the difference with these babies!
How to make the garnish pictured: Use a vegetable peeler to peel a long strip of orange rind from an orange. Soak the strips in water for 10 minutes or until the soften enough to easily flex back and forth on to a toothpick. Add a cherry. If you make these in advance, store in a ziplock bag so they don't dry out in the fridge.