You can't celebrate Mardi Gras without the classic Hurricane! The Jellinator knows how to make the best tasting hurricane jello shots this side of New Orleans. Then keep scrolling for other awesome Mardi Gras jello shot recipes.
Hurricane Jello Shots
1 box tropical fusion jello dissolved in 1 cup hot water.
½ cup light or dark rum
½ cup triple sec
Squeeze of lime juice.
*can substitute cherry jello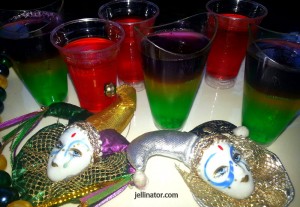 You can layer purple, green, and gold for beautifully festive shots.
Get recipes for these colors and more on our Mardi Gras Party Page.
*All Jellinator Jello Shot recipes and photos are Copyright protected