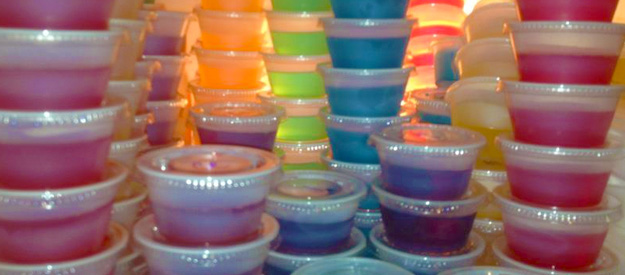 The Jellinator is the world's only patented jello shot filling device. Jellinator.com is a subsidary of NIU Enterprises, LLC. It is a minority-owned (female) company out of St, Louis, MO.  The Jellinator is made in U.S.A.
The Jellinator was patented by Dennis Donahue of Creative Law. Dennis is also responsible for copywriting The Jellinator Top 100 Jello Shot Recipes cookbook.
Dennis JM Donahue III   CreatiVenture Law, LLC   www.CreatiVentureLaw.com
If you are visiting this site, you have probably made jello shots before and you know what a messy, time consuming endeavor it can be. Somehow, you have to get a hot, sticky liquid in to your jello shot cups. Well, LOOK NO FURTHER because we are here to fix all that! Never again will you have a sticky jello mess. The Jellinator is the answer you have been looking for. No mess, no stress!
Let's Jellinate!